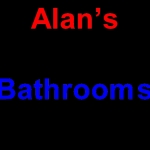 Open Now!
Monday to Sunday
8am - 8pm
Open on public holidays
About us
Bathroom design
Bathroom fitters
Bathrooms
Bathroom Design Install
Complete Bathroom Refurbishment
Bathroom installer
Bathroom refurbishment
Bathroom fitter
Alan's Bathrooms
Alan's Bathrooms Supplying and installing Bathrooms of a high quality, with can more than just installing Bathrooms Cloakrooms, en suites, plus installing new taps mending toilets repairing shower valves plus installing new Mira digital shower valves to make your bathroom up to date with tiling plastering and new low volt light in LED. We can offer a complete bathroom refurbishment supplied and installed.

Image Gallery
Alan's Bathrooms
Main Bathroom with travertine tiles and a Mira digital dual shower pumped. l-shaped bath with full vanity suite Tattenhoe Milton Keynes. http://www.alansbathrooms.co.uk/index.html
Other Services
website
twitter
Free Quotes
Free Design Service
Special Delivery
Personal Shoppers
Payment Methods
Cash, Cheque, PayPal, WorldPay
Trading Since
2001
Customer Testimonial
Fitted Kitchen in Great Linford Milton Keynes We had several quotes when we decided to buy a new kitchen from Alan's Kitchens, and asked Alan to fit our kitchen for several reasons, he listened to what we wanted, advised were needed and helped us obtain a kitchen that suited us and our home. We had integrated dishwasher, fridge, washing machine and cooker which Alan scoured and fitted, he even designed additional cupboards and work surface in a difficult place so we did not waste space. The tiled kitchen floor was the last thing to be finished but pulled the whole kitchen together. I would recommend Alan to all and cannot what until we can start on the bathroom. Thank you Alan." Hope that you can add this for me, I am concerned that if I cannot find it, do others??? If it would be better tell me were it is on the site I will add the above. Kind regards
Testimonial on behalf of Mr Mrs Mary and Dewi Griffiths Milton Keynes
Customer Testimonial
Fitted Bathroom and Kitchen in Milton Keynes We hired Alan to re-design and fit a Bathroom and Kitchen in Milton Keynes for an elderly friend of mine Mr. Tony Valetti. Through-out the job he showed great skill and craftsmanship . He was extremely knowledgeable about safety aspect which is very important an elderly customer, he was also very to Mr. Valetti and treated him with the up most respect always . It is because this that i would highly recommend his company to as many people as possible. All the best
Testimonial on behalf of Mr Paul Smith Newport Pagnell
Customer Testimonial
Fitted Kitchen in Milton Keynes Here is our testimonial as promised. As you were aware we were very sceptical of using an independent supplier due to previous experiences.In to days society it is very hard to find a honest and reliable trader. You did exactly what you stated in your quote and more.We cannot thank you enough for your hard work and professionalism throughout the days you worked on our kitchen.You promised to beat all other quotes and we have a kitchen of better quality than and better living. Alan arrived prompt eight AM on the Monday(start date) and we began stripping the old kitchen out. My advice to all is let him strip it out and you take the rubbish to the tip. It saves time and money. By day two we had most of the plumbing ready. Alan added extra sockets for our kitchen and he took the cost. Although we had to provide plenty of tea and Jam doughnuts. In our quote was to skin the ceiling but to our amazement it needed new plaster board. I purchased this but Alan with my aid put it up. This put us a day behind where by Alan worked two days until eight P.M. His attention to detail and ideas shows how much pride he takes in what he does. Alan arranged everything from the kitchen, plasterer and electrician & flooring. He will help to keep to you to your budget. With an off cut of work top we even ended with a breakfast bar which more than our expectations. We now have a wonderful kitchen and would advise any one to first try Alan. We are already planning the Bathroom for the future and will use Jay Kitchens for this. Alan is a dedicated , honest first class trader that you can trust.We have also advised Alan that if he wishes to send potential clients to view his work and discuss with us we are more than happy. Our kitchen has been transformed from rubble to a 1st class kitchen in six days
Testimonial on behalf of Many thanks Alan from Mr Newberry Milton Keynes
Customer Testimonial
Fitted shower bathroom in Two Mile Ash Milton Keynes Alan has recently completed an update of our bathroom, involving taking out the old suite and replacing the toilet and washbasin, but most importantly replacing the bath with a walk in shower - no mean feet in a very small room. The first thing which impressed us was that he telephoned or called back when he said he would and suggested that I visited his previous project in order to see his workmanship, which was very helpful. He made several suggestions at the on set and although there were many challenges along the way which he dealt with with tolerance and patience, the end result is a gorgeous bathroom, much admired by all. This being his only weakness,he could be forgiven. PS Thrives on Tea and jam doughnuts.
Testimonial on behalf of Gaynor and Pete Answer
Customer Testimonial
Fitted main bathroom and en suit Great Linford, Milton Keynes We chose Alan to replace both our en suite shower room and our bathroom. Of three estimates we took from suppliers, he was by far the best. He fully discussed our requirements and produced a full and detailed estimate – which he stuck to, despite meeting a few problems on the way. All the materials were delivered to our house before he started work. He was on hand to check that everything was there. Once he started work he turned up on time every day. He was thorough, methodical and took much pride in his work. We were delighted with the final results. We are more than happy to recommend him to others. We wish we had met him earlier. We had a new kitchen fitted 18 months ago. That did not turn our nearly as well as our new bathrooms. And what is more he is a nice chap. So pleased with the work he did, we took Alan and his partner out for a meal to celebrate the completion of all his work.
Testimonial on behalf of James
Testimonials are added by the business owner and are not independently verified.