Anytime Locksmiths
Locksmiths in London
Hamilton Way
London
N3 1AN
Phone: 020 707...

Search Tags
Opening Hours
Monday to Sunday
12am - 11:45pm
Open on public holidays
Similar nearby businesses
Colton House Princes Avenue, London, N3 2DB
2 Lansdown Road, London, W1J 6HL
Unit 4, London, SW18 4RL
Stonebridge Road, London, N15 5NY
307 Baring Rd, London, SE120DZ
153-159 Bow Road, London, E3 2SE
About us
Locksmith
emergency locksmiths
commercial locksmiths
residential locksmiths
lock repair
home security
24 hour locksmith Finchley
Anytime Locksmiths
Professional Finchley locksmiths servicing the entire Greater London 24 hours 7 days a week. Call 020 7078 4007 for a rapid response by Anytime Locksmiths in Finchley.
Emergency locksmiths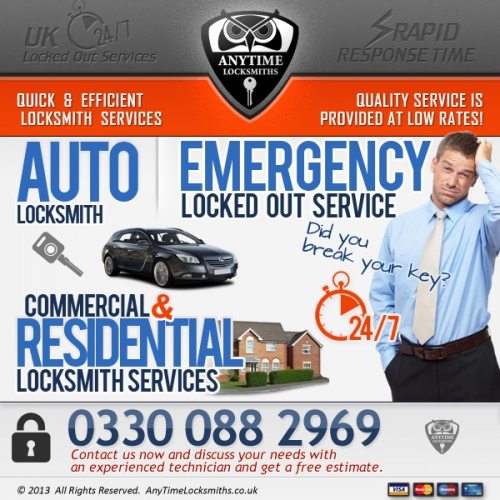 Emergency locksmiths available 24 hours a day 7 days a week for lock outs, broken locks, breakins and every other emergency security situation you find yourself in. Professional and experienced we can provide a rapid response to your call.
Home Security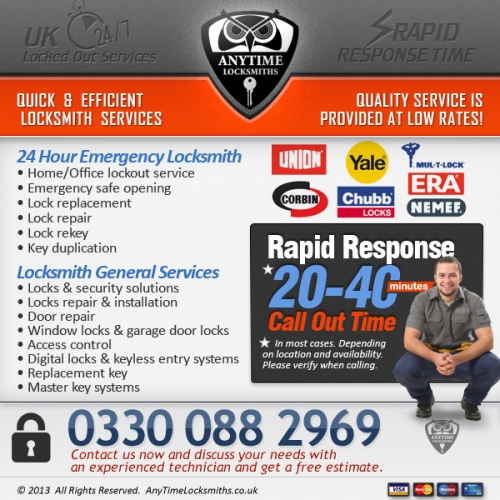 Keeping your home secure is no small matter. In Finchley and throughout the capital of London,Anytime Locksmiths take your home security as their responsibility. Have your property assessed and locks fixed or strengthened or add new locks or rekey.
24 hour service
24 hour emergency locksmith service so you can get help at any time of day or nigh. Anytime Locksmiths Finchley have local professional locksmiths on call to provide a rapid response to your call.
Expires: 31/05/2014