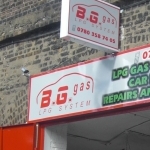 Auto gas BGgas Lpg system
462 Andre Street
,
London
,
E8 2AA
Based on 0 reviews
Similar nearby businesses:
400 Hoe Street, London, E17 9AA
1-4 Elcho Street, London, SW11 4AU
Cockpen House 20-30 Buckhold Roa, London, SW18 4WW
About Us
BGgas Lpg conversion
Autogas alternative fluel
lpg conversion
Autogas BGgas Lpg conversion
We want to welcome you on our website B.G. Gas Lpg System. [Rozmiar: 38927 bajtów] We are dynamically developing company. We have been installing, servicing and repairing LPG Autogas and we have been dealing with broadly understood car mechanics for over 15 years in Poland, Germany and for some time in the UK, as well.
Great advantage of our company is professional servicing of our client's cars and their satisfaction with us.We kindly invite you to take up of our services.
Opening Times
Monday to Saturday 9am - 6pm, open 24 hours Sunday