Bath Business Web
Directories in Bath
7 Pierrepont Street
Bath
Avon
BA1 1LB
Phone: 0780 94...
Phone: 01225 9...

Social pages
Search Tags
Opening Hours
Monday to Sunday
9am - 5pm
Open on public holidays
Similar nearby businesses
7 Pierrepont Street, Bath, BA1 1LB
Combe Park, Bath, BA1 3NG
40 Magdalen Avenue, Bath, BA2 4QB
7 Frederick Place, Bristol, BS8 1AS
Suite 5 74 Oak Road, BRISTOL, BS7 8RZ
40 The Old Batch, Bradford-on-Avon, BA15 1TL
About us
Web Design
Who are Bath Business Web?
Bath Business Web are the proud owners of 7 local online directory services, which are www.bathbusinessweb.co.uk,www. bristolbusinessweb.co.uk,www. chippenhambusinessweb.co.uk, www.calnebusinessweb.co.uk,www. trowbridgebusinessweb.co.uk,www. warminsterbusinessweb.co.uk, www.fromebusinessweb.co.uk and www. webdesigninbath,com. We specialise in delivering professional websites to local businesses. Bath Business Web has a wealth of experience in helping local companies to maximise awareness of their products and services to existing and potential customers via the web. Our web design team are Search Engine Optimisation (SEO) specialists and consistently deliver front page rankings for our clients across the key search engines such as Google, Yahoo and Bing.

Why do I need a Website from Bath Web Design?
If you want to maximise awareness of your products and services then you have to embrace the power of the search engines. Paper directories are no longer an effective method of reaching out to potential customers as the internet gives surfers the information they want, where and how they want; via a computer, phone or handheld device.

To ensure you are front of mind you need a professionally created website that ranks highly on popular search engines; a website that meets all Search Engine Optimisation criteria and meets W3C Compliance specifications.

Our team of highly experienced web designers will create a bespoke website for your business that not only achieves these objectives, but also looks great with easy to navigate pages that can be updated as and when the need arises. We have a wealth of web design experience, creating sites for companies of all sizes across Bath and the South West and we'd welcome the opportunity to help your business stand out from the competition via the web.

Search Engine Optimisation in Bath
We are SEO specialists. Whilst lots claim to be, we are. Every site created by the team at Bath Business Web is fully Search Engine Optimised, W3C compliant and submitted to the search engines for testing before going live. With front page results on search engines a core feature of our service to you, let us help your business realise the significant benefits that a Web Design Bath SEO website can deliver.

Bath Web Design Packages
We offer a range of web design and copywriting packages to suit businesses of all sizes across Bath and the South West. Our packages are tailored to meet the varying requirements of our clients, taking into account the nature of business, functionality requirements and volume of information that may need to be accommodated.
Company History
WEBSITE DESIGN BATH
About Bath Business Web
Bath Business Web have been providing a professional web design service to the local business community for many years as part of our online directory business.

Our online directories incorporate area specific platforms such as Bristol Business Web, Trowbridge Business Web, Chippenham Business Web, Warminster Business Web, Frome Business Web and Calne Business Web providing businesses within these areas with not only an effective directory portal but also an affordable, accessible and flexible web design, SEO and W3C compliant resource.

We are proud to have more than 300 clients on our books, with many choosing to feature within our online directories whilst utilising our local web design and copywriting skills to create a professional presence online.

Company History
Following a successful career working within the highly competitive directory sector, Duncan Short and wife Jackie set up Bath Business Web to address the decline of paper directories as people migrated their search activities online.

Utilising their skills and with a team of capable web designers, sales personnel and administrators behind them, the pair set about creating a business focused on providing the highest levels of service and delivery to businesses based in Avon, Somerset and Wiltshire.
The Success Story unfolds
The Success Story

WHY use Bath Business Web Bath Business Web - Your Business in Bath on the Web- WHY use Bath Business Web? Duncan and Jackie Short are the owners of Bath Business Web and are proud to bring these services to all Bath Businesses so enabling them to Connect Local People to Local Services. Duncan has many years of successful experience within the directory market particularly with BT. Throughout those years he gained extensive knowledge of the directory business and has had considerable success for many businesses. Often businesses would consult with him for advice on the best places to market their product or service. Even so the directory marketplace is shifting rapidly to the Internet particularly with the take-up of broadband.The Internet has become a 'way-of-life' and shows no signs of decreasing. This trend is further supported by businesses moving their advertising 'spend' towards the Internet and away from traditional means. This is where Bath Business Web can help your business gain momentum in this new marketplace. We have three distinct advantages to offer you our prospective customers: 1. Duncan's knowledge of the directory business already mentioned 2. Our knowledge of and experience in using the Internet for business 3: Our proven capability for building imaginative websites. Jackie brings the relevant skills of her fully qualified staff to create a unique showcase for your business. Review some of the websites we've built within 'Our Portfolio'; Look at our News Items to see evidence of our customers gaining new business from their presence on Bath Business Web or one of our sister sites. Their 'trademark' is to build sites which are update-able by the customer themselves should they choose to do so. If not then small changes will be done by Jackie and her team; it goes without saying that major modifications would be subject to an additional charge being made. Having had your website built or your company advertised through one of our distinguished boxes you will want to be found by those searching the Internet. Doing nothing will not get your site or box 'noticed' by those searching for your service. The secret to being found is knowing how the search engines of Google Yahoo or MSN operate otherwise your company will struggle to appear on any of their pages so minimising your ROI return on investment. Using Duncan's specialised knowledge of Search Engines Bath Business Web address this in two ways: a) we ensure that when people search using keywords e.g. builder bath Bath Business Web will appear on the front page of Google and the same applies to the words "flooring Bath" b) we offer an additional Search Engine Optimisation package to assist your website to appear on the front page of a Google search. By these means we know that we have already gained tremendous results and numerous satisfied businesses.
Search Engine Optimisation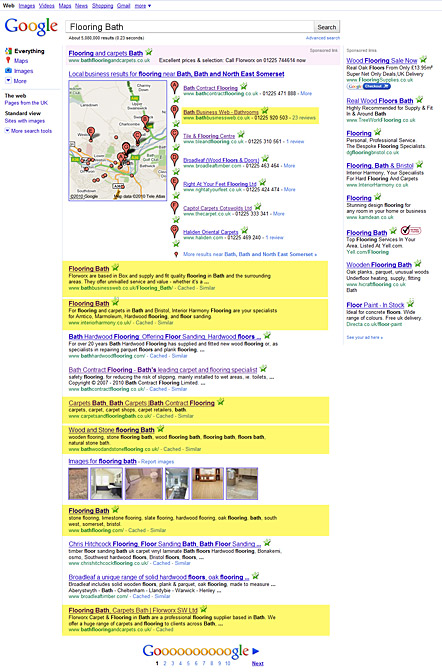 Our results speak for themselves: We achieve front page rankings on business critical search engines We design websites that appeal to customers We write SEO friendly web copy Don't waste your time and money on a poorly designed and executed website.
Ebook
E-book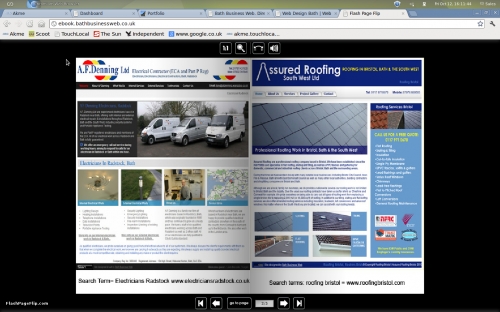 Please check out our FANTASTIC pics on our e-book
Other Services
Buy Online
website
twitter
Customer Service / Helpline
Free Quotes
Credit Card Payments
Cash And Credit Cards
Payment Methods
American Express, Cash, Cheque, MasterCard, Maestro, Visa, Bank Transfer
Trading Since
2006