Beech Behaviour Centre
Dog Training in Worcester
Old Road North
Kempsey
Worcester
Worcestershire
WR5 3JZ
Phone: 07769 2...
Sandra Raw: 01905 8...

Social pages
Search Tags
Similar nearby businesses
Plovers Rise, Worcester, WR5 3SA
8 Whitewood Close, Worcester, WR5 2LW
St Marks Church Hall, Worcester, WR5 3DW
Old Road North, Worcester, WR5 3JZ
27 Solitaire Avenue, Worcester, WR2 5PP
7 Old Road South, Worcester, WR5 3NJ
About us
Beech Behaviour Centre | Dog Behaviour Training | Worcestershire
We offer dog training in Worcester to suit your needs: 1-to-1 in your own home, puppy classes and various dog training classes offered. Sandra Raw is a qualified behaviourist, working with local vets to offer specialist behaviour plans for problem dogs.
Dog training classes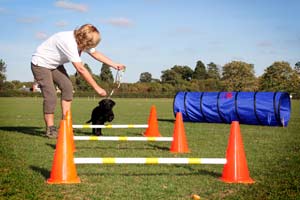 We offer various dog and puppy training classes near Worcester. Topics covered are: Canine First Aid Puppy development Stress in Dogs Canine Nutrition Sex and Hormones Benefits of Tellington TTouch/Canine Massage Behavioural effects
from £5 per class
Thank you, thank you, thank you
When you first arrived to help us train Hattie we were bewildered with all our "How to train your puppy" books, our heads were spinning and we couldn't see the woods for the trees, in fact I don't think we could even see the trees! As you are well aware our gorgeous Hattie pulls a new behaviour issue out the bag more often than we've had hot dinners: being possessive, barking at strangers, not eating, being depressed, poor recall ......... I could go on forever. It's to you we instantly turn to sort it out, you've been there every step of the way, through thick and thin at the end of the phone and the lead, forever patient, reassuring and practical, beavering away often behind the scenes hunting out extra information to guide us in our mission to have a relaxed and well rounded dog. I can honestly say that without you we would both be grey and definitely hairless by now and we certainly wouldn't have the funny and gentle Hattie we now have. So thank you Sandra from all of us, as I know for sure we certainly couldn't have done it without you.
Lyndsay Berryman - 26/11/2012
Want to display these reviews on your own site?
Leave your review of Beech Behaviour Centre