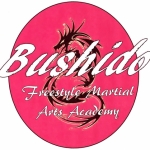 Bushido Freestyle Martial Arts Academy - Walsall
Beechdale Lifelong Learning Cent, Stephenson Square, Beechdale
,
Walsall
, West Midlands,
WS2 7DY
Based on 1 reviews
Similar nearby businesses:
Deakin Avenue, Walsall, WS8 7QG
133 Lichfield Street, WS11SL
Croft St Community Centre, Walsall, WS2 8JR
About Us
Sign In
About Bushido Freestyle Martial Arts Academy
Bushido is a family club who help our students to achieve they're personal goals. Our classes help build confidence, respect and also help with spiritual well being. We have anti bullying policies and also teach The Maridian Attack System - Pressure Points, Our Senior Instructor is Level 2 proficient.

We can also be found on thebestof Walsall site.
Other Services
Free Parking
Customer Loyalty Schemes