Deans Blinds And Awnings Uk Ltd
Blinds and Canopies in London
Ravensbury Terrace
Ravensbury Terrace
Earlsfield
London
SW18 4SE
Phone: 020 894...
Phone: 00208 9...
Fax: 020 8947 8336

Social pages
Search Tags
Opening Hours
Monday to Saturday
9am - 5pm
Sunday
Closed
Open on public holidays
Similar nearby businesses
103 St. Albans Rd, Watford, WD17 1RD
66 Battersea Rise, London, SW11 1EQ
479 Upper Richmond Road West, London, SW14 7PU
26a Hart Street, Southport, PR8 6BT
84 Falkland Road, Dorking, RH4 3AD
Boundway Hill, Lymington, SO41 6EN
About us
Awnings add value to your home or business
Patio awnings increase your outdoor living space
Gmail: Email from Google
Patio awnings, awnings for homes, garden awnings and canopies by UK quality manufacturer and installer, Deans Blinds & Awnings.
The best since 1894
Since 1894, Deans Blinds and Awnings, who were originally called Deans Blinds of Putney, London, have been synonymous with all types of awning and exterior blinds - from the simple traditional Victorian awning to the latest modern external electric awning or canopy with solar control. the name Deans says it all; we have been manufacturing and installing the highest quality blinds and awning products for customers since the year 1894! Awnings have been used for solar control for centuries and Deans have been making them for nearly 120 years.
Gmail: Email from Google
Patio awnings, canopies, and awnings of various types by UK quality manufacturer and installer, Deans Blinds & Awnings.
Pratic All Weather Pergola and Terrace Awning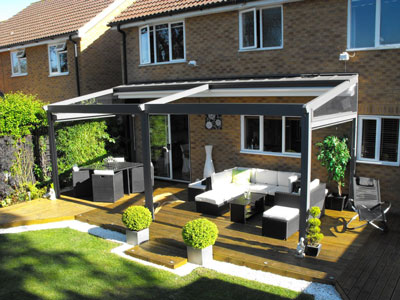 Incorporating its own traditional timber structure, the Deans terrace system combines all the benefits of an awning with the elegance of a traditional pergola.
patio awnings
The Deans Kenley Cassette Awning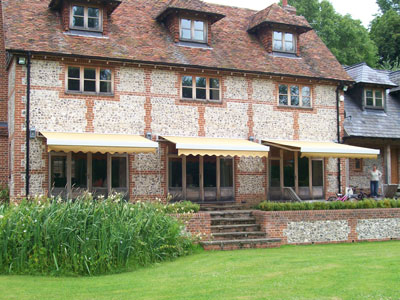 .The Kenley retractable is a cassette awning system, which means the front, top, and bottom aluminium profiles are integral, presenting an elegant "engineered" look, which completely encloses the mechanical parts of the awning when in the closed position.
Other Services
Wheelchair access
Free Parking
Delivery Service
video
website
twitter
Customer Service / Helpline
Customer Loyalty Schemes
Free Quotes
Special Delivery
Payment Methods
Cash, Cheque, MasterCard, Visa, Bank Transfer
Trading Since
1894
We also do customised graphics for awnings
Deans have their own in-house graphics department who combine modern technology with the traditional craft of hand signwriting and gold leaf application. Graphics applied to commercial awnings and shop blinds extend the product from being a form of solar control and shelter into a 3-dimensional sign which will act as a beacon for old and new customers alike.
Terms: negotiable
Expires: 07/02/2015