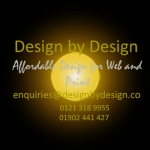 Design By Design
The Green House, The Custard Factory
,
Birmingham
, West Midlands,
B9 4AA
Based on 0 reviews
Similar nearby businesses:
8 Leicester Street, Bedworth, CV12 8SY
Office 5, Park House, Reading, RG5 4JB
41 Powell Street, Birmingham, B1 3DH
About Us
Affordable
Scalable
Powerful
Dynamic
Small and Start Up Business
Our aim is simple, to provide affordable web design for sole traders, small and start up business.
We work on the principle that if we don't pay for something then neither do you.
We use powerful, free open source solutions.
This provides massive functionality to your website without costing a fortune. This means you only pay for our time and expertise.

What We Do
We design dynamic websites, email templates, business cards, flyers and brochures for all kinds of business.

We totally understand the financial pressures for new and small business. So we are totally flexible when it comes to planning what we can do for you. We can deliver the full package or for example, tailor a plan that involves putting your site together using your existing livery and your own content. The level of our involvement will clearly reflect in the cost of your project. We are happy to train you to take on as much or as little as you need to manage things on your own. If you ever thought that you couldn't afford a website, well now you can! Please feel free to contact us to informally to discuss your options.

We offer a personal hands on service with a down to earth approach and we won't baffle you with jargon. We will happily discuss your ideas informally and all estimates are free. Our strong technical designs couple with a stylish, clean visual presence that will give you the look and functionality you need, at the price to suit your budget.

We offer feature rich hosting solutions with an extensive control panel which, for web design clients are complimentary for the first year.
Other Services
Customer Service / Helpline