Euronet Motors
Car Dealers (Used) in Leicester
29-31 Bannerman Road
Leicester
Leicestershire
LE5 5LB
Phone: 0116 21...

Social pages
Search Tags
Similar nearby businesses
1044 Melton Road, Leicester, LE7 2NN
23 Blenheim Crescent, Leicester, LE9 6QL
1, Leicester, LE8 0NN
2 Dartford Road, Leicester, LE2 7PQ
56 Thurcaston Road, Leicester, LE4 5PF
Syston Mills, Leicester, LE7 1NS
About us
best value used cars based in leicester
Euronet Motors is proud to offer a range of incredible value, used cars in Leicester. Our stock of quality used cars are sourced and hand picked to ensure the most reliable and visually pleasing vehicles.
You'll find the most popular vehicle brands including quality used Audi, Volkswagen, Toyota, Peugeot, Mercedes and BMW. If you're looking for something sporty and powerful, the vehicle stock at Euronet Motors regularly includes petrol motors with powerful engines, many over 2 and 3 litres.

We bring in new used cars on a daily basis, so you will always find different, great value used cars on our website and at our showroom.

We constantly check our prices against other used car dealers in the area, and are proud to offer the best value quality used cars in Leicestershire. Every one of our vehicles has the option of a warranty from 3 months to 5 years.

If you're looking for quality used vehicles beyond Leicestershire, Euronet Motors regularly ships quality used cars to the rest of the UK and abroad, including Africa and Europe.

You'll experience a relaxed atmosphere at Euronet Motors. We have many repeat customers, who enjoy browsing our stock online, and at our showroom on Bannerman Road in Leicester. You won't find pushy sales people, what you will find, is a relaxed friendly service and plenty of tea, coffee and maybe a biscuit.

You've found a particular used car you would like to view or take for a test drive, contact the team at Euronet Motors to make an appointment. We aim to provide the best service and want you to be able to take your time when viewing a vehicle, without a queue of people wanting to view the same model. We realise time is important to everyone, that's why we open 7 days a week. If required, your current vehicle can be considered for part exchange.

If you are travelling from outside the area to view our stock of used cars in Leicester, we can arrange to have you picked up from Leicester Bus or Train station. We also offer a car delivery service, contact the Euronet Motors team to find out more.

If you're looking for second hand cars for sale in Leicester, choose the best value used car dealer in Leicestershire- Euronet Motors.




used cars
car sales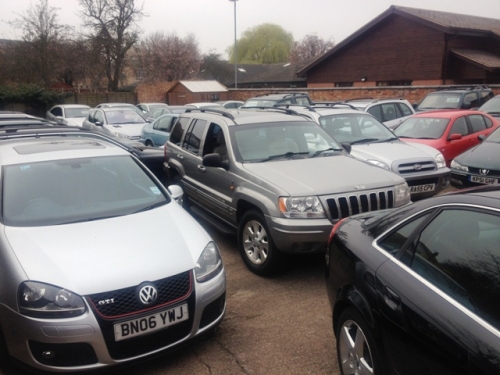 cheapest used cars in Leicester offering cars to UK and exporting abroad.
Other Services
Free Parking
Buy Online
Delivery Service
Trading Since
Best Jaguar i've ever bought
Got to give credit where it's due. Love these guys, friendly, no stupid sales pressure, had a few bad experiences buying cars in the past but these guys made the experience that much better. Look forward to reccomending you to all my friends and part exchanging my company car when it's due for renewal.
andrew falkster - 06/01/2013
Mazda mx5
bought an mx5 automatic which i've been searching for, for ages. Great car still running not let me down yet.
claire reed - 22/11/2010
Want to display these reviews on your own site?
Leave your review of Euronet Motors