Granite Transformations - Hinckley
Kitchenware in Leicester
The Enterprise Centre
Dawsons Lane
Barwell
Leicester
Leicestershire
LE9 8BE
Phone: 01455 8...

Search Tags
Opening Hours
Monday to Saturday
10am - 5pm
Sunday
Closed
Open on public holidays
Similar nearby businesses
Richmond House, Leicester, LE8 6BB
The Enterprise Centre, Leicester, LE9 8BE
77 Main Street, Leicester, LE9 9Np
131 Barkby Rd, Leicester, LE4 9LG
12 Silver Walk, Leicester, LE1 5EW
8 Lutterworth Road, LEICESTER, LE2 8PE
About us
Granite Transformations - Hinckley
The Granite, Quartz or Recycled Glass Worktop that fits on top of your existing worktop
Sleek, stylish and unashamedly luxurious, Granite Transformations' surfaces are the simple way to give tired worktops a lift and your kitchen a whole new lease of life.

Made from natural granite, quartz and stone combined with state-of-the-art polymer, our worktops add a magical sparkle that turns the ordinary into extraordinary. All information is found on granitetransformations.co.uk/leicester
Granite Worktops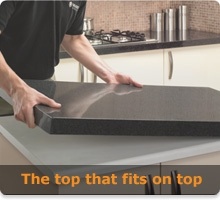 Granite Transformations' surfaces are made by combining the world's finest quality granite, quartz and stone with advanced polymer technology to create a truly unique agglomorate material. Lightweight, flexible and versatile, it offers all of the natur
Other Services
Wheelchair access
Free Parking
Delivery Service
video
gallery
website
Free Design Service
Payment Methods
Cash, Cheque, Delta, PayPal, Bank Transfer, Direct Debit
Trading Since
Granite Transformations - simply the best
Thank you to all at Granite Transformations - Hinckley / Leicester. The service was excellent and the product is outstanding. All my friends are queuing up to now get their worktops covered with granite. You make it so easy. Many thanks D.E
David Ellis - 11/03/2013
Want to display these reviews on your own site?
Leave your review of Granite Transformations - Hinckley