Hamiltons Vision Services - TV Repairs Sutton in Ashfield |
Television and Radio Goods Servicing and Maintenance in Sutton-in-Ashfield
20 High Street Stanton Hill nr
Sutton in Ashfield
Nottinghamshire
NG17 3GA
Phone: 01623 5...
Phone: 07866 9...

Visit website hamiltonvisionservice.com
Social pages
Search Tags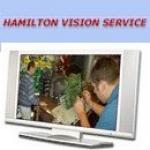 Opening Hours
Monday to Sunday
9am - 5:30pm
Open on public holidays
About us
Plasma TV Repairs
LCD TV Repairs
Rear Projection TV Repairs
Computer Repairs
Audio Repairs
Refurbished TV Sales
Laptop Repairs
DVD Player Repairs
About Us
Welcome to Hamilton Vision Service, covering Nottingham, Mansfield and surrounding areas we are an experienced electrical repair company of 40 years. Experts in repairing household electricals (TV, VCR, DVD + Audio). We specialise in the repairs of plasma/ lcd/rear projection tv audio units. At our shop in Sutton-in-Ashfield we sell an extensive selection of refurbished TV.
Trade Bodies / Associations
Members of Retra
Specialist Services
We Specialise in the repairs of plasma tv lcd tv rear projection tv audio equipment video recorders dvd players/recorders xbox and most electronics gadgets.
Other Services
website
Customer Service / Helpline
Free Quotes
Credit Card Payments
Cash And Credit Cards
Payment Methods
Cash, Cheque, MasterCard, Maestro, Visa, PayPal
Trading Since
1988
does not know what he is doing
left a panosonic plasma tv with him.in november told me one price then told another .never got back tome this ctv was only 14 months old .rang and called in still did not have a clue what was wrong with it .paid£20.dec came jan came rang again ,told still waiting parts .told me he is waiting for a second hand part .we purchased another .i rang him yet againhe told me still not done .he told me when part does come in .he will sell it and share the price what he gets for it .never heard from him .then he tells me he is watching my television ..con man springs to mind awful person .having picked it up.it was filthy all scratchednever again that cost me £75.he wanted £95 no recipts del boy
antony sheehan - 18/02/2014
Want to display these reviews on your own site?
Leave your review of Hamiltons Vision Services - TV Repairs Sutton in Ashfield |