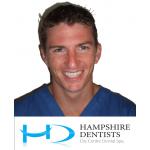 Opening Hours
Monday to Sunday
9am - 5:30pm
Open on public holidays
About us
Welcome to Hampshire Dentists in Southampton.
Based on Southampton High Street, our dental surgery has been attending to the dental needs of patients for over 28 years. Whilst we are a small family run business, our Principal Dentist, Dr Robin Hanna has an ever growing reputation in the South Coast of England for his high quality dental care and commitment to cosmetic excellence. At Hampshire Dentists, we are dedicated to providing you with the best quality dental treatment in a relaxed, comfortable and friendly atmosphere. We pride ourselves on being able to soothe and minimize any dental discomforts and concerns and strive to conduct all procedures in the most gentle and pain free manner possible. Hampshire Dentists is a fully private practice with a strong commitment to preventative dental treatment.
Trade Bodies / Associations
BDS, BDA, Denplan affiliated, Member of American Academy of Cosmetic Dentistry, Invisalign certified.
Specialist Services
Invisalign, Dental Implants, Teeth Whitening, Crowns, Bridges,Veneers,General dental treatments, tooth coloured toxin free mercury free fillings
Specialist Services
Dental Implants Dental Veneers Root Canal Treatment Invisalign 6 month smiles coming soon
The New Dental Experience on Southampton High Street.
As a private practice we believe we are able to conduct more rigorous dental assessments and screenings to ensure any potential problems can be identified and dealt with from a very early stage for your long term benefit. We recognize that more than 95% of prevention comes down to what you do at home, so we provide extensive patient education to help you get the most of your own, individually tailored oral hygiene routine. Patients are welcome to 'pay as they go' or become part of Denplan to help spread the costs. We also offer Financing options for your financial ease.
Other Services
Wheelchair access
Wheelchair access
website
Customer Service / Helpline
Free Quotes
Emergency Call Out
Late Opening
Customer Toilets
Credit Card Payments
Cash And Credit Cards
Payment Methods
Cash, Cheque, MasterCard, Maestro
Trading Since
1983
Very happy
Visited Robin for the first time today after having not had a check-up for over 10 years (I'd had a relatively traumatic experience and been too terrified to see a dentist since then). I was very nervous, yet put at ease immediately. Robin took the time to explain everything that was being said about my teeth (I remember as a child being baffled and slightly alarmed by the foreign language being spoken between my dentist and the nurse). I am confident that when I return to have the necessary work done in a few weeks' time that the experience will be equally calm and friendly. I honestly don't know why I left it so long now!
Emily Wenzel - 12/07/2013
Excellent dentist
Throughout my adult life, I've had dentists who rushed work and took anaesthesia very casually. As a result, I've been fearful of visits to dentists. Robin has completely cured me of my near phobia. He takes as much time as necessary to explain thoroughly any procedure he's going to carry out. He then takes the time to give completely pain-free injections and follows up with what is obviously careful and painstaking work. My feeling of confidence in his work is complete. I can honestly say that I have never had such good treatment; I expect to be visiting this practice for a long time.
Vin Kennedy - 25/01/2011
Great Dentist!!
delighted to have stumbled upon this practice - its right on the High Street, so very handy. Amazing service and care - the dentist was so gentle and took so much time and effort explaining about my teeth and places i was missing when brushing...he even showed me photos of the inside of my mouth...big thumbs up for hampshire dentists, i will definitely be back if only to see the handsome dentist!!lol ;-)
Holly Magowan - 10/10/2010
Want to display these reviews on your own site?
Leave your review of Hampshire Dentists in Southampton