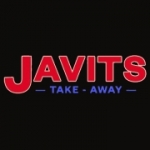 About us
About Us
Welcome to Javits takeaway. Opened in July 2000, Javits is a family run takeaway offering the finest
take-away food in the north of Edinburgh.

Based in West Granton Road we deliver from the above times to the surrounding area. You can phone or email or click here to find out more.

We have a wide range of takeaway foods available including Pizzas, Fish & Chips, Kebabs & Burgers. Click here to view our extensive menu.

We also have some great value Meal Deals all available for collection or home delivery
Javits Takeaway
Welcome to Javits takeaway. Opened in July 2000, Javits is a family run takeaway offering the finest take-away food in the north of Edinburgh. Based in West Granton Road we deliver from the above times to the surrounding area. You can phone or email or click here to find out more. We have a wide range of takeaway foods available including Pizzas, Fish & Chips, Kebabs & Burgers. Click here to view our extensive menu. We also have some great value Meal Deals all available for collection or home delivery
Image Gallery
Take Aways Edinburgh - Javits Takeaway
Javits is a family run takeaway offering the finest take away food in the north of Edinburgh find more out at http www touchlocal com 7253684
DISGUSTED!!! Order Number: 36651
Just returned from a 10 mile round trip after ordering a couple of pizzas off the on-line menu-my order being accepted then when I turned up to collect the bloke behind the counter demanded an extra £3 over advertised/agreed (order was accepted before I left) price-then he had the cheek to look shocked when I said I'd go elsewhere-what exactly did he imagine. Maybe thought he would win me over? he didn't, either way I won't be back and will be posting this review on every site I can find, Just one more thought:Javits advertise "the people you can trust" to what exactly:-have you drive 10 miles, get knocked back when they won't stick to prices they advertise n their site and come home hungry-never again.
stel anastassiades - 07/04/2013
Want to display these reviews on your own site?
Leave your review of Javits Takeaway