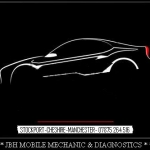 Open Now!
Monday to Saturday
7am - 7pm
Sunday
Closed
Open on public holidays
About us
Diagnostics.
Auto Electrician.
Mechanic.
Renault, Specialists.
Citroen, Specialists.
Vauxhall, Specialists.
Peugeot, Specialists.
Audi, VW, Skoda, Specialists.
Welcome
Mobile Mechanic, Auto Electrician, Diagnostics. Auto Technician, covering a 15 mile radius. Trust your car with a professional and save money.

About Us
JBH Diagnostics & Repair, are Auto Technicians providing professional fault finding and repairs to your vehicle. We cover all areas which include, Auto Electrical, Mechanic, Diagnostics. In this day and age, unless you have the knowledge and experience in all three areas, you are leaving yourself open to misdiagnoses and large bills for, parts not required in the first instance. We constantly receive at least 2 hours training per week, to keep up with vehicle enhancements and technical data. We also cover Hybrid and full electric cars, programming ecu's, air bag faults etc are just to name a few, in the last 10 months we have diagnosed and repaired 400 faults.
Our Services
We cover all areas of vehicle maintenance, servicing and repairs. Our wide field of vehicle experience combined with the technology, ensures you are in safe hands. Saving you money in the first instance, as we provide professional diagnoses and repairs with a guarantee.
Installations
Vehicle security Locks, Immobilizers, Security alarms, Tracking Device and Security Alarm And Tracking Combined so you can track and immobilize the vehicle via the internet, on board cameras that record front, rear, and both sides when your driving. In car entertainment, from subs to amps, television, DVD player and games consoles, Can Based Vehicle Systems also covered.
Starter Motors, Alternators, ABS units, Air Bags, Ecu's, Programming, Mileage Correction, Seat Belts, Crash Data Reset, Body Work, Engine Repairs & Rebuilds.
Mobile Mechanic, Auto Electrician, and Diagnostic Technician.
Mobile Mechanic, Auto Electrician and Diagnostic Technician,covering Stockport, Cheshire and Manchester.

comprehensive tests and repairs at a fraction of the cost.

We have experience in the industry, moving forward with the times and keeping up-to date with the latest technological developments in the car industry. With a support network of Engine mechanics, Technical Engineers, Computer Programers and Main Dealer contacts, providing support and technical advice where required.

Renault, electrical fault, Audi, VW, Skoda, Citroen, Peugeot, Vauxhall, BMW, Mercedes, Porsche, Bentley, remapping, Egr valve.

We can diagnose and carry out the required works to put you back on the road again guaranteed. Whatever the fault in Mechanics, Diagnostics and electrical.
service
Mobile Mechanic
Service to vehicle at your premises or work place, includes engine, brakes and fluid levels. Various on the spot repairs carried out
From 50 pounds
Other Services
gallery
special offers
website
twitter
Customer Service / Helpline
Customer Loyalty Schemes
Free Quotes
Emergency Call Out
Late Opening
Credit Card Payments
Cash And Credit Cards
Payment Methods
Cash, Delta, MasterCard, Maestro, Visa, PayPal, Bank Transfer
Trading Since
Full Service 50 Pounds
Service is Labour Only, we can provide service parts or you can
Terms: Customer to supply Service Parts or we can provide Service parts at RRP Price, 50 pounds is Labour only
Expires: 20/02/2015
Excellent bloke great job
Busy guy to get hold of, but that comes down to he is good at what he does. I was given his contact details by a garage of which he is in high demand and generally keeps him busy. I was happy to wait based on the recomendation, and the fact that numerous attempts by others to resolve a non starting Vauxhall. I had to wait 2 days and within 3hours my car was up and running so happy to have my car back.
Nicola Cassidy - 02/02/2013
too busy ???
called today to try and book an appointment, was told he was too busy for the next month???? not good.
james robinson - 29/06/2012
Want to display these reviews on your own site?
Leave your review of JBH Vehicle Diagnostics and Repair
Customer Testimonial
Developed an electrical fault on my Mercedes Van, Called Jbh Diagnostics and Repair, problemwithcar.com on the 14/05/2013. Simon carried out a diagnostic check, which was not clear with the results. Simon offered to by-pass the circuit, as i needed the 12 volt cab supply for the Sat-Nav. I wanted the issue resolved and the fault found. So Simon gave me a price to investigate the circuit fully, and a start date of 18/05/2013. In the meantime a separate circuit was fitted so I could continue with my work. On Saturday Simon removed the front dash and traced the wire from the fuse panel, all the way to the load bay where the fault was found. The load straps had been tightened onto the cable supplying power to the load bay light creating a short. This was put right and the temporary circuit removed, all the dash and steering column was put back in order. Great job and all done within time scales set out.
Testimonial on behalf of sk8 Cringle
Customer Testimonial
My Renault had been acting unusual with indicator lights coming on and windscreen wipers coming on periodically. The reason I called Simon at JBH Diagnostics and Repair,problemwithcar.com. I arrived home and turned the engine off with the key card out, the engine remained running. No matter what I tried to turn the engine off, key back in, locking the doors etc it would not turn off. I had to stall the vehicle, and disconnected the battery for fear, of any further craziness. Simon connected his Renault Diagnostic Module 11/05/2013, and found the fault by testing all the modules on the vehicle and found fault with three of them. Simon used his knowledge, and narrowed it down to one particular unit which had to be ordered through the main dealer. On the 13/05/2013 the new unit had been fitted and coded back into the vehicle, the steering was re-calibrated along with the brakes.
Testimonial on behalf of Poynton, Blenheim
Customer Testimonial
VW Passat W Reg. Battery had drained and triggered alarm early hours in the morning of 07/05/2013. In the panic to stop the alarm as the remote alarm fob was not responding my partner took all the fuses out. We attempted to put them back in later in the day but the car would not start. We called JBH Diagnostics and repair problemwithcar.com, he was able to use his equipment and pull up the details to our vehicle which showed him where all the rated fuses should be placed. The car started first time, in addition he also cleared the air bag light and reset the service reminder for us all within the hour at a charge of £40 including call out.
Testimonial on behalf of SK5, Fovant Crescent
Testimonials are added by the business owner and are not independently verified.
Facebook Like
We are donating 30p to every like on http://www.facebook.com/problemwithcar.com. donations will be submitted twice yearly to various charities.
27/06/2013 to 27/06/2014
This event is free