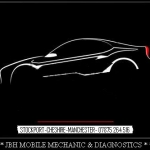 Jbh Vehicle Diagnostics and Repair
Ashmore Avenue
,
Stockport
, Cheshire,
SK3 0QY
Based on 2 reviews
Similar nearby businesses:
Weir Mill, Stockport, SK3 0AG
Cumberland Avenue, Stockport, SK5 8DJ
Unit 1, Stockport, SK1 3LH
About Us
Mobile diagnostics
Mobile Mechanic
Auto Electrician
Diagnostics
ECU Reprogramming
Mechanic
Oil And Filter Change
Mobile Mechanic, Auto Electrician, and Diagnostic Technician.
Mobile Mechanic, Auto Electrician and Diagnostic Technician,covering Stockport, Cheshire and Manchester.

comprehensive tests and repairs at a fraction of the cost.

We have experience in the industry, moving forward with the times and keeping up-to date with the latest technological developments in the car industry. With a support network of Engine mechanics, Technical Engineers, Computer Programers and Main Dealer contacts, providing support and technical advice where required.

Renault leaking sunroof, electrical fault, Audi abs light and esp, VW engine light, Skoda fault, Citroen gearbox and starting problem, Peugeot wont start, Vauxhall not starting or cutting out, BMW, Mercedes, Porsche, Bentley diagnostics, Ford central locking, remapping Egr valve off, Range Rover suspension reset.

We can diagnose and carry out the required works to put you back on the road again guaranteed. Whatever the fault in Mechanics, Diagnostics and electrical.
Opening Times
Monday 7am - 7pm, Tuesday 7am - 7pm, Wednesday 7am - 7pm, Thursday 7am - 7pm, Friday 7:30am - 5pm, Saturday 9am - 4pm, Sunday 10am - 3pm
Payment methods accepted
Other Services
Emergency Call Out
Late Opening