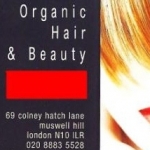 Kay And Kompany
69 Colney Hatch Lane, Muswell Hill, London
,
London
,
N10 1LR
Based on 2 reviews
Similar nearby businesses:
12-18 Hoxton Street, London, N1 6NG
34 Heath St, London, NW3 6TE
5 Greenhill Parade , Barnet, EN5 1ES
About Us
Haircuts, Organic hair dyes, Hair straightening
Brazilian blowdry, Keratin hair treatments,
Foil Hi-lights, Lo-lights, Hair colouring experts
Redken, Moroccan oil, Hair treatments, Long hair,
Mens haircuts, Mens hair colouring, Mens grooming
Mens beauty treatments, Mens waxing, manicures
Ghd, Redken, Pureology, KeraStraight, Cloud9
Colour correction, Hair extensions, Perms, HairUp
About Kay and Kompany Organic Hair and Beauty Salon in Muswell Hill London N10
London Hairdressers in Muswell Hill N10, Kay and Kompany Organic Hair and Beauty are an affordable independent Uni-sex boutique salon with a highly skilled and friendly team of professional hairstylists and beauticians. They will provide you with all your hair and beauty needs using all the latest techniques, technology, and products. Including, specialist in - Brazilian blow dry, Fashion organic hair colours, Precision haircuts, Mens, Ladies and kids haircuts, Foil hi-lights and low-lights, Japanese Yuko hair straightening, Keratin hair treatments, Long hair, Hair colour corrections, Hair up, Redken, Pureology, Cloud9, Ghd, Paul Mitchell, Dermalogica beauty and body treatments. Pop in or call for a free consultation without obligation, we'd love to meet you - Opened 1986 "We Strive to be the Best, not the Biggest"
Services Available and Offered at Kay and Kompany Organic Hair and Beauty Specialist in Muswell Hill, London
Specialists In - Organic hair colours, Brazilian blowdry, Precision haircuts, Ladies haircuts, Mens haircuts, Mens haircolours, Kids haircuts, Hair treatments, Hair straightening, Keratin frizz free hair treatments, Japanese Yuko hair straightening, Foil Hi-lights, Hair colour corrections, Long hair blow dry's, Long hair, Perming, Hair extensions, Hair extension Removal, Hair up, Mens grooming, Ghd, Redken, Pureology, KeraStraight, Nanomax, Paul Mitchell, Cloud Nine, L'Oreal, Goldwell, Wella, St -Tropez tanning, Dermalogica beauty treatments for ladies and men, Brazilian waxing, facials, electrolysis, eyelash and eyebrow tinting, Body treatments, Body massages, Dermalogica retail products
Trade Bodies / Associations
Good Salon Guide, 5 Starr Gold Salon rating, NHF, SRH, State registered hairdressers, Hairdressing Council, Enfield Training Servces, Business Link,
Brazilian Blow dry Keratin Treatments for Frizz Free Hair
KeraStraight keratin hair treatment is suitable for all hair types from virgin, untreated hair to highly damaged, weak hair and is Formaldehyde Free. This evolution in straightening and repair will deliver beautifully shiny, frizz free and healthy hair.This 'liquid hair' blends with the hair on your head dramatically improving its quality on both the inside cortex and the outside cuticle layers.
Takes 2-4 Hours - Last 2-4 months.- Prices start from £99.00
Opening Times
Monday 9:15am - 6:15pm, Tuesday 9:15am - 6:15pm, Wednesday 9:15am - 6:15pm, Thursday 9:15am - 7:30pm, Friday 9:15am - 7:30pm, Saturday 9am - 6pm, Sunday 10am - 5pm
Trading Since
1986
Payment methods accepted
Cash
Delta
Mastercard
Maestro
Visa
Credit Card Payments
Other Services
Garden
Wheelchair access
Wheelchair access
Beauty Treatments
video
gallery
special offers
website
twitter
Hair Treatments
Hair Stylist
Hair Cut & Finish
Ladies Hairdressers
Uni-Sex Hairdresser
Men Hairdressers
Customer Service / Helpline
Price Match
Customer Loyalty Schemes
Free Quotes
Late Opening
Customer Toilets
Cash And Credit Cards