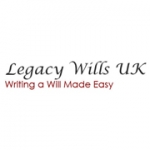 Legacy Wills UK
72 Pole Hill Road
,
Uxbridge
, Middlesex,
UB10 0QD
Based on 1 reviews
About Us
Advance Directives
Will Storage
Probate Advice
Memorandum of Wishes
Protective Property Trusts
Lasting Powers of Attorney
Lifetime Updates
Why use Legacy Wills
Legacy Wills Uk offer a No obligation consultation in the comfort of your own home. We make the Will Writing process a client friendly one by removing all the jargon.

Our unique approach to arranging wills either via the internet phone or in person means that however you wish to give your instructions we are able to help.

And we speak in plain English!

Our business is PRIMARILY generated by referrals from satisfied customers. The only request we make is that if you like the service we provide you recommend us to your family or friends!
Legacy Wills UK. Will Writers for Wills, Power of Attorney, Will Storage, Advance Directives, Memorandum of Wishes and more.
Online Wills
Completing your Will using our online system is quick and simple and may be suitable for you if:

Your Will is a simple one
You have no need to appoint guardians for young children
You do not own a property
You do not need advice
You can choose to arrange your Will online:

Whether you are married or single
Have children or not
Do or don't own a property
Start your Online Will here.

It just may be better if you speak to a consultant first to ensure you consider all aspects of arranging you're Will.

If you choose to arrange your will online you can still have your Will:
Checked by a professional before signing it
Professionally bound
Stored free of charge
If you are unsure whether an online Will is suitable for you please don't hesitate to call with any questions or for advice.

The Cost

Single Will £27
Mirror Wills £37
On the Phone
Arranging your Will over the phone is possible but not recommended. Some things are better explained face to face.

If you are unsure of which method is best for you then give us a call to discuss it and we can advise you.

Our service is completely confidential. You can take the time to make your decision. There is no pressure to decide on the spot.

During the telephone conversation you will be able to chat about the key roles within a Will such as;
Executors – Person(s) you appoint to deal with your estate
Trustees – Person(s) appointed to be the legal administrator of any trust(s)
Guardians – Person(s) who become guardians of your minor children
You will be able to decide how best to distribute your estate either by:

Specific gifts
Monetary amounts
Charitable gifts
Or as one large amount that can be split between as many beneficiaries as you wish in percentages or shares
You will also have the opportunity to ask questions about:

Advanced Directives (Living Wills)
Memorandums of wishes
Probate
Property Trusts
Lasting Powers of Attorneys
And much more…
After talking to our consultant, you may decide that it would want to discuss some things in more details in a consultation rather than over the phone. We will be happy to accommodate this.*

The Cost

Single Will £47
Mirror Wills £97
Advanced Directives £25
Home Consultation
Arranging your Will through a home consultation is the best way to ensure that you're Will is achieving what you want it to.

Our service is completely confidential. You can take the time to make your decision. There is no pressure to decide on the spot.

During a consultation you will be able to chat about the key roles within a Will such as;
Executors – Person(s) you appoint to deal with your estate
Trustees – Person(s) appointed to be the legal administrator of any trust(s)
Guardians – Person(s) who become guardians of your minor children
You will be able to decide how best to distribute your estate either by:

Specific gifts
Monetary amounts
Charitable gifts
Or as one large amount that can be split between as many beneficiaries as you wish in percentages or shares
You will also have the opportunity to ask questions about:

Advanced Directives (Living Wills)
Memorandums of wishes
Probate
Property Trusts
Lasting Powers of Attorneys
And much more…
After talking to our consultant, you may decide that none of the above is important or that they all are.

The Cost

Single Will £97
Mirror Wills £147
Advanced Directives £75
Payment methods accepted
Other Services