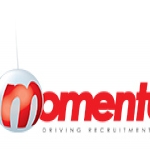 Momentum Recruitment
Uttoxeter Business Centre, Dovefields Retail Pk, Town Meadows
,
Uttoxeter
, Staffordshire,
ST14 8AZ
Based on 1 reviews
About Us
Welcome
As an employer you can relax in the knowledge that your recruitment is in good hands and will be handled with ethics and confidentiality, whilst maintaining openness, dedication to the task in hand and commitment to find the correct candidate.

Our long-term success is measured by your success. Recommendations are the best advertisement. Here at Momentum we build long-term relationships and commit to our clients. Our strong team of recruitment professionals has a wealth of knowledge and market expertise in their fields. This enables us to fit the perfect candidates to your jobs.
About Us
Momentum Recruitment is a UK Nationwide Provider of Temporary Contract and Permanent Recruitment Solutions to firms of all sizes from SME's through to Blue Chips and Multinationals. We currently operate our UK Nationwide Service from our 3 sites based in Uttoxeter (Staffordshire) Marchington (Derbyshire) and Poole (Dorset). Momentum Recruitment is committed to promoting equality and equal opportunities in employment regardless of a person`s sex marital status sexual orientation age race ethnic origin religious philosophical beliefs or disability. As a business we judge existing and potential employees solely on merit. We aim to eliminate bias and discrimination in the treatment of our employees and our clients and create an atmosphere where employees feel able to give their best.
Our Services
Momentum Recruitment is part of a network of offices that provide recruitment and manpower services nationwide to variety of SME's and Blue chip firms in a range of business sectors. We currently provide a 24/7, 365 day service to a wide range of clients who return to us time and time again and recommend to others. Momentum has been successfully operating nationwide for 7 years and are ISO 9001 accredited and a full REC member to ensure we always operate to the highest standards both to our clients and to our fantastic candidate base. We currently provide engineering staff, industrial staff, warehousing staff, administrative and clerical staff, manual labour and grounds maintenance staff and much more. If you are a business and would like to find out more about what Momentum Recruitment could do for your business whether or not you have used an agency or not before or whether you are a candidate wanting to see what vacancies we have available, please email us at enquiries@momentumgroup.org.uk or call us to find out more.
Our Mission
Our mission is to lead the way and be at the forefront of recruitment. We are proud to be accredited to ISO9001 and members of the REC. We promote an environment within which you can call upon the widest range of knowledge, skills and experience. As well as ensuring compliance with legislation and codes of practice, Momentum are committed to treating all our applicants, employees and contacts in the same way regardless of race, color, nationality, ethnic origin, gender, marital status, sexual orientation, disability, age, religion or religious beliefs.
Opening Times
Monday to Friday 9am - 5:30pm, Closed Saturday and Sunday
Industry Specialisation
Welders / Welding
Trading Since
2003
Payment methods accepted
Other Services
Free Consultation
Temporary Positions
Permanent Positions
Hourly Paid
Salaried
website
twitter
Customer Service / Helpline
Free Quotes
Cash And Credit Cards