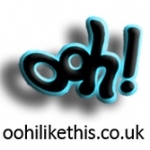 Ooh I Like This! Online Gift Shop
6 Leadbeaters Road
,
Macclesfield
, Cheshire,
SK11 7DW
Based on 0 reviews
Similar nearby businesses:
4 Chestergate, Macclesfield, SK11 6BA
19 Chestergate, Macclesfield, SK11 6BX
3 Queen Victoria Street, Macclesfield, SK11 6LP
About Us
Top Quality Gifts | Macclesfield Cheshire | Ooh I Like This
Fast growing online gift shop offering Top Quality Gifts for children and adults. Based in Macclesfield. Products range include - Starchild baby shoes; Triggerfish luxury modern design leather indoor shoes / slippers for men and women; Childs Farm Organic toiletries; Funky hooded towels; Quilted snuggle wrap / throws, and more...Local free order collection.
Payment methods accepted
American Express
Delta
Mastercard
Maestro
Visa
PayPal
Credit Card Payments
Other Services
Buy Online
Delivery Service
website
Next Day Delivery
Mail Order
Special Delivery