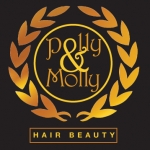 Polly & Molly
39 Chancellor Street, Partick , Westend
,
Glasgow
,
G11 5QN
Based on 1 reviews
Similar nearby businesses:
78 Main Street, Glasgow, G71 7LR
9a Main Street, Glasgow, G71 8RD
47 Townhead, Glasgow, G66 1NN
About Us
We are a professional family run hair & beauty business that looks to inspire, transform and brand our customers.

With our expert stylists ready to inspire you and your hair, by transforming your image you will become a part of our family and brand, making you feel confident to be the very best you can be.

We are now open for business at 39 Chancellor Street, the former Edward Graham's hair salon which has been established in excess of 20 years.

We look forward to welcoming you.

Opening Times
Monday 9am - 1pm, Tuesday 9am - 6pm, Wednesday 9am - 6pm, Thursday 9am - 8pm, Friday 9am - 6pm, Saturday 9am - 6pm, Closed Sunday
Closed on Bank Holidays