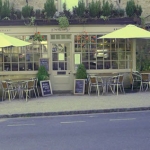 Priory Restaurant
35 High Street
,
Burford
, Oxfordshire,
OX18 4QA
Based on 0 reviews
Similar nearby businesses:
Praed St, London, W2 1JE
Asthall, Burford, OX18 4HJ
Home Buildings, Burford, OX18 4UR
About Us
About Us
Welcome to the Priory Restaurant in the heart of beautiful Burford at the gateway to the Cotswolds. We are open 7 days a week from 9am until 6pm serving breakfast, lunch, cream teas and early supper including a traditional roast on Sundays. We are fully licensed and welcome children. We pride ourselves on our delicious menu of home-cooked food at affordable prices, excellent service and a warm and friendly atmosphere. We are one of the only restaurants in Burford with a large secluded garden.The charming and picturesque garden located at the rear of our 17th century building offers a wonderful place to eat and drink with family and friends. We look forward to seeing you soon.
Payment methods accepted
Other Services
Licensed
Outdoor Seating
High Chairs
Baby Changing facilities