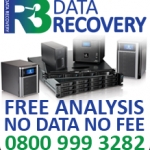 Open Now!
Monday to Sunday
9am - 5:30pm
Open on public holidays
About us
R3 Data recovery UK
Recovering lost data and Repair RAID Server, Hard drive repairs and rebuilds, Memory stick repair. laptop crash, drive recovery, virus removal,. Data Theft Detection and computer forensic investigations, HR Disputes, External Hard drive, Raid Repair. : Data Recovery Software R3Cover available for free trial from www.r3cover.com
Specialist Services
R3 Data Recovery has developed its capacity to offer is friendly, cost effective and highly successful data recovery services to IT Professionals and home users as well as to Data Recovery Companies. We specialise in keeping our customers and business clients Data safe and enable them to be productive and efficient. When callled upon for emergency help we will do everything possible to get you up and running as soon as possible. Use our contact page at http://www.abcdatarecovery.com
Trade Bodies / Associations
Microsoft Registered Partner, Micro2000 award winner. FSB, IEEE, BCS. ISO-3 Annually certified clean room.
Image Gallery
PASSIONATE About Data Recovery - *OFFICE ACCIDENT*
Our technicians are passionate about data recovery. Should your hard drive sustain any injuries and its critcal to get your data, visit www.datarecoveryhospital.com or cal 0800 999 3282 intl: +44 114 2677699 We recover most types of drives and fla
Other Services
Wheelchair access
Wheelchair access
Free Parking
Buy Online
Open 24 Hours
Delivery Service
website
Customer Service / Helpline
Price Match
Next Day Delivery
Exchanges
Free Quotes
Emergency Call Out
Late Opening
Special Delivery
Customer Toilets
Credit Card Payments
Cash And Credit Cards
Payment Methods
American Express, Cash, Cheque, MasterCard, Maestro, Visa, Bank Transfer
Trading Since
2005