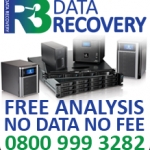 Open Now!
Monday to Sunday
9am - 5:30pm
Open on public holidays
About us
R3 Data recovery UK
Recovering lost data and Repair RAID Server, Hard drive repairs and rebuilds, Memory stick repair. laptop crash, drive recovery, virus removal,. Data Theft Detection and computer forensic investigations, HR Disputes, External Hard drive, Raid Repair. : Data Recovery Software R3Cover available for free trial from www.r3cover.com
Specialist Services
R3 Data Recovery has developed its capacity to offer is friendly, cost effective and highly successful data recovery services to IT Professionals and home users as well as to Data Recovery Companies. We specialise in keeping our customers and business clients Data safe and enable them to be productive and efficient. When callled upon for emergency help we will do everything possible to get you up and running as soon as possible. Use our contact page at http://www.abcdatarecovery.com
Trade Bodies / Associations
Microsoft Registered Partner, Micro2000 award winner. FSB, IEEE, BCS. ISO-3 Annually certified clean room.
Image Gallery
PASSIONATE About Data Recovery - *OFFICE ACCIDENT*
Our technicians are passionate about data recovery. Should your hard drive sustain any injuries and its critcal to get your data, visit www.datarecoveryhospital.com or cal 0800 999 3282 intl: +44 114 2677699 We recover most types of drives and fla
Other Services
Wheelchair access
Wheelchair access
Free Parking
Buy Online
Open 24 Hours
Delivery Service
website
Customer Service / Helpline
Price Match
Next Day Delivery
Exchanges
Free Quotes
Emergency Call Out
Late Opening
Special Delivery
Customer Toilets
Credit Card Payments
Cash And Credit Cards
Payment Methods
American Express, Cash, Cheque, MasterCard, Maestro, Visa, Bank Transfer
Trading Since
2005
Customer Testimonial
Very good communication both by e-mail or telephone. I was informed about the progress all along the recovery process.
Testimonial on behalf of Simpact Engineering
Customer Testimonial
Great service and communication.
Testimonial on behalf of SS Dhand
Customer Testimonial
I recently had to use Andy's data recovery services. One morning I came back to my computer to find it had locked up, and wouldn't boot up into OSX again. The hard drive was spinning up, but couldn't be recognised by the BIOS, indicating it was more than a than a basic logical fault. This was a 1TB drive which contained a *lot* of important data - I had backups, but they were out of date! I got in touch with R3 Data Recovery, who were also based in Sheffield, and explained the situation. Someone came to collect the drive that day, and Andy gave me a call back with a diagnosis a couple of hours later. Unfortunately my worst fears were confirmed, and the drive heads needed replacing. Thankfully R3 were able to source the exact replacement parts needed, fit them using their clean room, and recover all the data before sending me 3 CSV documents containing the file list of each partition. Checking these over, everything seemed perfectly in order - it was obviously a great relief to see those contents again! After sending payment, I received a brand new external 2TB drive containing folders for each partition with all the data intact, saving me months of work! So I can definitely recommend the services of Andy and his team, they have the resources and know-how to get you out of a tight situation!
Testimonial on behalf of Robin Smallman - Bogus Noise
Customer Testimonial
Hi there, This is Jane Hooy and I called R3 data recovery panicking thinking that all my files are corrupted and my homework (video files) are all gone! thank goodness that I met a very professional IT technician who patiently guided me and helped me step by step to solve my problems. Now I finally got my files and I am very relieve and thankful. Thank you!
Testimonial on behalf of Jane Hooy
Customer Testimonial
i found R3 data to be extremely helpful and that they went the extra mile when my daughter in law needed files from a broken usb stick to be urgently recovered,i would definately recommend them to others
Testimonial on behalf of ann rodgers
Customer Testimonial
The team at R3 really know their onions and after speaking to them you feel like your data is in safe hands! I've only used them a couple of times and fingers crossed won't need to for a while but there is no doubt where my next broken hard drive will be going!
Testimonial on behalf of Ronnie Garrod - Abix Technology
Customer Testimonial
Very approachable team who deal with your individual requirements. Although, seemingly expensive,R3 data provide an excellent, first class service.
Testimonial on behalf of Home Desk Top
Customer Testimonial
Andy and his team rescued me twice.Firstly by stopping me using the services of a less than good competitor and secondly by delivering exactly what was required in a timely and professional manner. No over selling expectation, and delivery of my lost data quickly and simply...Perfect.
Testimonial on behalf of Phil Davis - iWeb EMEA Ltd
Customer Testimonial
After being told that my external hard-drive was beyond repair by another computer repair company, I approached R3 Data Recovery to help. I was quite expensive, but the data I wished to recover was priceless. Quick and efficient service and very grateful the data could be recovered.
Testimonial on behalf of Adam
Customer Testimonial
First class service. Helpful and informative service on the phone, speedy resolution of problem with accompanying reduction of stress! My work felt in capable and reliable hands. I would highly recommend R3 Data Recovery Ltd.
Testimonial on behalf of Marie Bradley - Marie Bradley Child Psychotherapy
Customer Testimonial
My dealings have been with Andy Butler. I found them to be very knowledgeable & professional.
Testimonial on behalf of paul beetham - kingfisher windows
Customer Testimonial
very helpful and friendly. also very helpful afterwards.
Testimonial on behalf of craig sawers
Customer Testimonial
Honest and no-nonsense service from a company that clearly knows what it's doing. Upfront about technical aspects of recovery and cost. Recommended.
Testimonial on behalf of Jamie
Customer Testimonial
We had hard drives with data that needed recovery. There are many data companies out there, what I can say, is having tried various 'others' over the years, we would only use R3 Data Recovery Ltd. When others have failed to recover anything, R3 Data found everything we needed and ensured it was recoverable. In these matters, it's not about the price. Professional Quality Counts.
Testimonial on behalf of SQUADRA Pro Cycling Ltd
Customer Testimonial
From my first phone call to delivery the whole process was polite, informative and fast. The highest compliment I can give is that I would recommend R3 without hesitation.
Testimonial on behalf of Gavin Gamble
Customer Testimonial
i thought the data on my memory stick was lost forever,until i sent it to R3 DATA RECOVERY,and they came up trumps by rescuing the files on the stick,ill be forever grateful, and ill certainly use them again,many thanks R3
Testimonial on behalf of Billy Paul
Customer Testimonial
Firstly, I truly thought all my data was lost (work and private). But, I would like to thank your company and Andy Butler for the excellent service you gave me for the data recovery from my corrupted NESO (HITACHI) External 500Gb HDD in terms of: • The speed of action • Going over and above what is expected in terms of customer service • Ensuring that I received the software the same day even that the server had experienced some technical difficulties! Having reviewed the data that I saved from my drive, I found all of the data in there that would have been lost forever. I can only all heartedly recommend your services to everybody after what I have experienced. It is re-assuring to know that there are still companies and people out there that take their work seriously and are prepared to help other people in their hour of need! Once again a MASSIVE thank you for all your help, without you I would have been in deep trouble with work and would have lost lots of very valuable and irreplaceable memories forever! Tasso Papadopoulos, Registered Hearing Aid Audiologist, Wigan
Testimonial on behalf of Tasso Papadopoulos - Registered Hearing Aid Audiologist
Customer Testimonial
Andy Butler was incredibly knowledgable, helpful, swift and professional. He kept me uptodate with the recovery process and returned my data quickly. This service was extremely reasonable compared to other quotes I received. I would recommend this company to colleagues, friends and family.
Testimonial on behalf of Rev Annie Kirke - Church of England, Diocese of London
Customer Testimonial
Top notch professionalism and I felt my data was in good hands
Testimonial on behalf of Jenny Lyons
Customer Testimonial
We were in the middle of an intense mobile commitment when the hard drive on a Mac died. As part of the ensuing panic on discovering essential material had not fully backed up (Lesson, I know) i happened on R3 via Google. Subsequent call, over a weekend provided reassurance, support and direction, followed by a detour by Andy to pick up the dead drive from my house. Service thereafter was calm, professional and rapid, with excellent feedback and advice which saved us money. Overall, R3 displayed a genuine talent for reducing a crisis to a drama. We now have all the essential information back. I wholeheartedly recommend R3.
Testimonial on behalf of Richard Merrick - Eatonbank Ltd
Customer Testimonial
You were clear, helpful and efficient, listened carefully and explained fully. I am really pleased with your service and mightily relieved to recover documents and photos I thought might be lost forever. I would use you again (though I hope it will never be necessary!)
Testimonial on behalf of Penelope Bentley
Customer Testimonial
This is the first time I've ever had to call on anyone for data recovery and from the start R3 Data Recovery were amazing. At 8.30pm minutes after filling out an online info request form I received a call and was able to discuss my drive's problem with a well informed and proficient engineer. The service which followed was quick, efficient, friendly and professional and although I hope I'd never have cause to use them again I wouldn't hesitate to do so should the need arise!
Testimonial on behalf of Russell Lewis - Russell Lewis Photography
Customer Testimonial
When my laptop stopped working all of a sudden, i was devastated. I was working on my PhD thesis and i thought i lost this with all the precious photos of my two babies. My fear was confirmed when a local IT guy said he cannot retrive any of my data from the hard drive. That's when i started looking for data retrival companies on the interent. I wasn't sure whom to go to, especially if you do not know much about computers or HDD. But i am most ecstatic today to say that i have made the right choice. R3 Data recovery has managed to recover all my precious data and pics. They have been very professional and extremely helpful. They really understood how important the data was for me and updated me as and when they made progress on the recovery.They really care for the customers and i would happily recommend them to anyone. Many thanks to everyone at R3 Data Recovery once again..You guys have been brilliant.
Testimonial on behalf of L Kottam - University of Sheffield
Customer Testimonial
Unfortunately they were unable to get the data I had foolishly lost. However, they never made false promises with regards to the chances of success and were professional and courteous throughout my dealings with them, and I would not hesitate to use again.
Testimonial on behalf of Richard Jones - R H Jeffs
Customer Testimonial
100% recovery of data that I should have had backed up elsewhere! Saved me a lot of heartache and rework. Very fast turnaround and the call after the analysis had been done was most reassuring.
Testimonial on behalf of Ian Ridley - Canimar Ltd
Customer Testimonial
very quick and an affordable service
Testimonial on behalf of Terence
Customer Testimonial
Excellent fast service, very professional, answered all my questions, very friendly. Would recommend.
Testimonial on behalf of Julie Potter
Customer Testimonial
Good customer support over the phone keeping me updated on what was going on. Got all my data back and sent it back on a really neat device. Well pleased with the service. Would definity recommend. Peter Mayes
Testimonial on behalf of Peter Mayes
Customer Testimonial
Brilliant service, highly recomended
Testimonial on behalf of Joanne Fahey - Abbey Nursing
Customer Testimonial
It cost me more than I expected, but got my data back very quickly. Roy Vickers
Testimonial on behalf of Roy Vickers
Customer Testimonial
One of our main RAID Servers went down. We needed the data urgent. R3 organised a courier, within 1 hour it was collected and soon back with them. They worked throughout the night, keeping me consistently up to date. The whole issue was resolved within 24 hours, ensuring we were back up and running. I cannot thank and Praise these guys enough!! Aaron Roach Budget Website & Hosting Solutions Rugeley
Testimonial on behalf of Aaron Roach
Customer Testimonial
My Directors laptop holds sensitive data. So when the hard disk failed with no backup I contacted R3. Fast response, great communication, well organised and a brilliant job of recovering 92GB of important data. Turned the whole job around in a little over a week. Highly recommended and will use again if the need arises - Thank you. Gary Crouch Hertford
Testimonial on behalf of Gary Crouch
Customer Testimonial
For Fast Efficient Service with Great Results I have no hesitation in reccomending R3 Data Recovery Ltd. They saved me an incredible amount of trouble. T. A. LIDDLE. BEM. Milnthorpe
Testimonial on behalf of Tony Liddle
Customer Testimonial
I've resorted to R3 Data Recover Ltd's services in a critical emergency situation: I had accidentally and fatally dropped my external hard drive in water, which stored 20 year's worth of my best graphic design academic and professional portfolio, in risk of being irreparably lost. R3 staff's professional/conscientious advice and service handled the necessary technical repair procedures in a promptly, swift manner, and ensured the full recuperation of my precious data, very rapidly and at an affordable cost. Thus I don't hesitate to highly recommend them to anyone who experiences unfortunate circumstances like mine, and needs peace of mind, for they can be sure their data will be retrieved safely from reliable and trustworthy experts. Paulo De Almeida. Graphic/Web Designer.
Testimonial on behalf of Paulo De almeida
Testimonials are added by the business owner and are not independently verified.