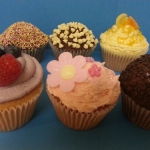 Raffo & Ridgeway
16 Ipsden Buildings, Windmall Walk
,
London
,
SE1 8LS
Based on 1 reviews
Similar nearby businesses:
58 Streatham Court, London, SW16 1DJ
Brackenbury Road, London, W6 0BD
Flat A, 18 Chadwell Street, London, EC1R 1XD
About Us
handmade decadent cakes and cupcakes delivered
bespoke wedding cakes
edible photo cupcakes
low-fat cupcakes
tarts
mini gingerbread shapes
giant cupcakes
layer cakes
Tasty Homemade Cakes
We sell a delicious range of cakes, cupcakes and other tasty treats. From luxurious white truffle cheese cake to delectable lemon meringue tarts, our choice is as large as our passion for baking them. We pride ourselves in hand crafting every cake so you can taste the quality in every bite.


Payment methods accepted
Cash
Mastercard
Maestro
Visa
Credit Card Payments
Other Services
Buy Online
Delivery Service
special offers
website
twitter
Customer Loyalty Schemes
Next Day Delivery
Free Quotes
Special Delivery
Direct Debit
Cash And Credit Cards
Worldpay