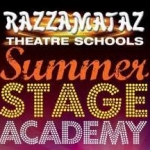 Razzamataz Theatre School Durham
Eden Terrace, Belmont
,
Durham
, County Durham,
DH1 2HJ
Based on 0 reviews
Similar nearby businesses:
Durham High School for Girls, S, Durham, DH1 3TB
St Cuthberts Centre Church Hill, Crook, DL15 9DN
13 Biddick Terrace, Washington, NE38 7DX
About Us
Courses and Classes
Razzamataz offer combined singing, drama and dance classes for children from 4 to 18 years old. Our dynamic classes are designed to develop youth confidence and improve health and fitness whilst learning fantastic performing skills in a safe and encouraging environment. All of this helps to develop important social skills for our students to take with them into the real world. Of course, we have fun and make lots of friends, but structure is also an important part of what we do. We provide each child with an annual report so that parents can follow their progress on this exciting journey and each summer host a parents evening with performances for friends and family to enjoy.

As confidence grows there will be lots of chances to perform, plus the option to attend specialized workshops hosted by top industry professionals and to audition for sister companies. All of our students have the opportunity to join a local casting agency with the possibility of gaining TV work (if they are interested in this particular field) and we are regularly contacted with exciting opportunities.

Razzamataz students have starred on the West End stage, on TV and in film and whilst this shows the exciting possibilities that we can offer all our students, what matters most to us is that our kids grow in confidence, learn and have fun in a safe environment.
About Us
Razzamataz Theatre Schools offer exceptional training in dance, drama and singing together with exciting opportunities to perform. We believe that every student should have the opportunity to be energetic, to gain confidence and to make friends whilst having lots of fun.

If you're 4 to 18 and want to get involved in performing arts in a funky, fresh and vibrant atmosphere, then Razzamataz is the place for you!
Parties
Whether you want to be a Popstar or a West End Star on your special day Razz Parties has the perfect package to help you celebrate in style!

Razzamataz offer a two hour party service including an hours tuition in dance, drama and singing using any combination of our curriculum to suit your needs. We offer Street Dance, Pop Singing, Drama and Musical Theatre! We also include a final 15 minute rehearsal before a short performance to all parents to showcase your talents and a presentation of certificates of achievement!

The birthday child will be spoilt with a special Razz present and each child will receive a Razz Party Bag. Also included are Razz invitations to let everyone know about your special day!
Scholarships
Razzamataz Theatre Schools are on the look out for 40 talented children and teenagers up and down the country to award them a prestigious scholarship in association with The Stage newspaper. The scholarship places have been created to give children the opportunity to participate in the performing arts and are part of Razzamataz's dedication to make performance training accessible to young people.
Service
Four different groups for 4-18 year olds
Invites to events locally and in the West End
Scholarships / free Arts Award Training
Dance, Drama and Singing lessons
Specialist Workshops and Academies
Summer Schools
Updates of local / national professional auditions
Qualified and CRB checked Teachers with Assistants
Directions
DH1 1NW
Opening Times
Thursday 4pm - 8pm, Closed Monday, Tuesday, Wednesday, Friday, Saturday and Sunday
Trading Since
April 2012
Other Services
gallery
website
Customer Service / Helpline
Free Quotes
Customer Toilets
Cash And Credit Cards