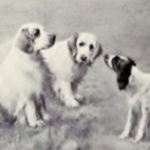 Salander Sensation Dog Training
97 St. Augustines Avenue, Birdholme,chesterfield
,
Chesterfield
, Derbyshire,
S40 2SJ
Based on 0 reviews
Similar nearby businesses:
3 Hartfield Close, Chesterfield, S41 0NU
43 Burwood Avenue, Mansfield, NG18 3DZ
Lyndhurst Avenue, Mansfield, NG21 0RJ
About Us
We offer bespoke training sessions working with do
1 To 1 means complete attention.
All in the comfort of your own surroundings
Salander Sensation training programme.
The way we train both dogs and owners has been used and is proven to work. This is because we offer a bespoke one to one training session which has been developed over the last 30 years. All training sessions are written and delivered to you ,so a log of progress can be saved and referred to if needed. We offer this way because we feel that quicker results develop with individual attention. We come to your home and we work out a personal training programme that changes as your dog progress.
Opening Times
Monday to Friday 9am - 5:30pm, Saturday 9am - 1pm, Closed Sunday
Trading Since
2012
Payment methods accepted
Other Services