Selly Park Dental - Private Dentists Birmingham
Dentists in Birmingham
Phone: 0121 47...
Fax: 0121 2490048

Social pages
Search Tags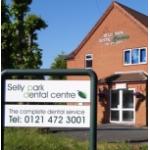 Opening Hours
Monday
9am - 6:30pm
Tuesday to Friday
9am - 5:30pm
Saturday to Sunday
Closed
Closed on public holidays
About us
Selly Park Dental in Birmingham. Our dedicated dental team is here to make you smile with confidence. Selly Park Dental Centre is situated at the junction of Upland Road and Pershore Road (A441), and we are on bus routes 45, 47 & 146.
Trade Bodies / Associations
All of our dental nurses are qualified and are registered with the General Dental Council. They all regularly attend courses to gain continual professional development (CPD).
Specialist Services
Tooth Whitening Veneers Crowns White fillings
Tooth Whitening
Tooth whitening is an affordable way of brightening your smile. It can erase years of stain to your teeth caused by tobacco, food, beverages and internal pigments which make your teeth look darker as you age. Whitening will not change the shade of your crowns, veneers or fillings. We offer two types of whitening, in-surgery or take home. To book a consultation with your dentist or to check your suitability for the above treatment, phone or e-mail to book an appointment.
Veneers
A veneer is a thin layer of porcelain made to fit over the front surface of your tooth. Many dentists use the analogy that dental veneers are for your teeth what false finger nails are for your nails. Porcelain veneers require a smaller amount of preparation to the tooth; they can be excellent cosmetic solution for teeth that are stained, chipped or slightly misaligned.
root fillings
endodontic treatment and retreatment of infected teeth, treating toothache and infections
tooth whitening
Our dentists can improve your smile and whiten natural teeth using the latest techniques and materials
Other Services
Wheelchair access
Wheelchair access
Free Parking
special offers
website
Customer Service / Helpline
Free Quotes
Late Opening
Customer Toilets
Credit Card Payments
Payment Methods
American Express, Cash, Cheque, MasterCard, Maestro, Visa, Direct Debit
Trading Since
9/23/2011
I have just completed my first course of treatment at the practice,all I can say is wow.The standard of care and treatment was exceptional. I have tried a few dental practices and have finally found the one that I would actually look forward to visiting, I would have no problems recommending the surgery to anybody. I left feeling I have made some new friends. Well done to the whole team.
Testimonial on behalf of Ms a.g. on Dr Hugo Whitehead
9/1/2011
I have been Paula's patient for many years now and cannot recommend her and the surgery highly enough. When the practise went private I intially switched to an NHS dentist, but I quickly realised that the peace of mind, level of service and complete trust in Paula was worth paying slightly more for. Staff are always so welcoming, and treatment explanations are offered freely and easily understood
Testimonial on behalf of Mrs K.G. on Dr Paula Thomas
7/27/2011
I have always been nervous around dentists, but since joining this practice I am no longer scared or nervous. The staff are wonderful, and the treatments are fantastic! Would recommend to everyone!!
Testimonial on behalf of Miss A.C. on Dr David Payne
2/18/2011
it was my first visit to the practice, was very impressed with the whole team and would recommend the surgery highly. loved the goodie bag but no chocolates or sweets!!
Testimonial on behalf of Miss r.s. on Dr David Payne
3/31/2010
This was my first visit to the practice and I was very impressed, will certainly recommend it to my friends. Treatment was good, prompt, and the staff were very friendly. See you all again in 6 months
Testimonial on behalf of Mrs N.P ON Dr Hugo Whitehead
3/4/2010
Amazing. I've always been nervous of dentists, but visiting the lovely team at Selly Park, and having treatment by Dr Payne, has proved to me that there is nothing to be scared of, and finally I can smile without embarrassment!
Testimonial on behalf of Miss N.Ron Dr David Payne
Testimonials are added by the business owner and are not independently verified.