The Body Jewellery Store
Jewellery Retail in Coventry
Po Box 5075
Coventry
West Midlands
CV3 9EJ
Phone: 02476 6...

Social pages
Search Tags
Similar nearby businesses
Suite 770, The Big Peg, Birmingham, B18 6NF
11 Key Hill Hockley Birmingham, Birmingham, B18 5NZ
2 Bullyard, Coventry, CV1 1LH
271 Walsgrave Road, Coventry, CV2 4BA
65 Lower Precinct, Coventry, CV1 1DS
1a Queen Marys Road, Coventry, CV6 5LN
About us
About Us
As well as recently expanding our brilliant selection of fashion coloured contact lenses, we are continually adding new lines to our collection. We have a massive choice of designs for belly button piercings, we try and source unusual items that stand out as well as providing quality, classic designs. You can find dangly belly bars for shaking things up, titanium and ptfe bars for the more sensitive navel piercings, stunning crystal gem bars for special occasions including the premium range of Crystal Evolution Bars perfect for someone special or as a little treat for yourself. We also have a massive range of cheap belly bars for under £2, bargain! We also stock a huge range of items to suit all your body piercing needs. We have accessories to customise your look like threaded attachments which can be used with your existing body jewellery. Toe rings, earrings and coloured contact lenses are great ways to complement your style, fantastic for parties, evenings out and even everyday wear. For the hardcore, we offer you flesh tunnels & flesh plugs, ear stretchers & expanders which come in a range of body jewellery materials including soft, flexible silicone, surgical stainless steel, acrylic & anodised titanium.
Body Jewellery
Belly Bars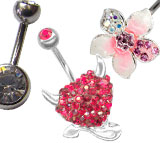 We have a huge range of quality belly bars from basic stainless steel to stunning crystal studded belly rings and all at fantastic prices.
Tongue Bars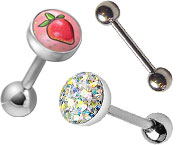 Choose from our fantastic collection of tongue bars at The Body Jewellery Store
Nose Stud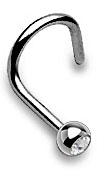 Pretty Nose Stud in Solid G23 Titanium with a 2mm Clear Crystal Gem
2.99
Other Services
Buy Online
Open 24 Hours
Delivery Service
website
twitter
Customer Loyalty Schemes
Mail Order
Refunds
Exchanges
Credit Card Payments
Payment Methods
Cash, Delta, MasterCard, Maestro, Visa, PayPal, Bank Transfer, Postal Orders