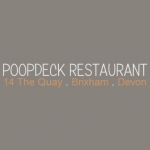 Opening Hours
Monday to Sunday
9am - 5:30pm
Open on public holidays
About us
Our food has customers coming back time and time again.
Ask about our private dining room - available for small parties of 8 to 14 people.

Whatever the occasion, you can be assured that you and your guests will have 'an eating experience' in one of the most fashionable and renown seafood restaurants in Brixham Devon, that can only be the Poopdeck seafood restaurant.
Welcome to the Poopdeck Restaurant in Brixham the mother of all fish restaurants.
This little quayside restaurant overlooking Brixham harbour and being by Brixham Quay the house speciality, need it be said, is seafood.

All the fish comes fresh off the boat and everything superbly cooked to bring out the subtle texture and flavours of the different varieties of fish.and served up in portions that leave nothing to the imagination, other than wondering how on earth you are going to walk out of the restaurant at the end of the evening.
Other Services
Customer Service / Helpline
Free Quotes
Late Opening
Customer Toilets
Credit Card Payments
Payment Methods
American Express, Cash, Cheque, Mastercard, Maestro, Visa, Direct Debit, New Credit Accounts, Diners Club
Trading Since
2003
LUNCHTIME SPECIALS

CREAMY BRIXHAM FISH SOUP WITH CRUSTY BREAD £5.25 DEEP FRIED FISH OF THE DAY WITH CHIP'S, PEAS, BREAD & BUTTER AND A POT OF TEA £5.95 WHOLE GRILLED BRIXHAM PLAICE LEMON AND PARSLEY £5.95 PINT OF PRAWNS WITH SALAD AND MAYONNAISE £5.95 BAKED ROCK SALMON (HUSS) GARLIC AND CHILLI BUTTER £5.95 BRIXHAM CRAB CAKES WITH SWEET CHILLI SAUCE £5.95 WHOLE GRILLED LEMON SOLE WITH PRAWNS IN PAPRIKA AND GARLIC BUTTER £7.50 ALL MAIN DISHES COME WITH CHIPS AND PEAS
Terms: All our meals are freshly prepared so a delay may occur at busy times.
Expires: 26/12/2014
Sat 5th Sept
Two telephone calls to book resulted in arrival to find name taken down incorrectly. Poor and indifferent service. "Move those plates so I can put this down". Very cramped table with not enough room for the crockery. Request to be moved denied "all other tables booked" when in fact not occupied throughout our visit. Seafood platter over cooked, some shellfish probably undersized to be legal and scallops full of sand. House wine on take it or leave it basis when we requested alternative to Chardonnay. Basically.. very overrated and just what we should have expected from Brixham!!.. the land of fish and chips. There are much much better seafood restaurants in Torbay. Would have told them all this, had they bothered to ask.
richard moncad - 10/09/2009
jennybutler1949@hotmail.co.uk
meal to remember we'll be back
- 10/01/2009
Want to display these reviews on your own site?
Leave your review of The Poopdeck Restaurant